Department Store Phones. They're everywhere. Well, okay, not everywhere but they're in department stores, right? Like K-Mart, Target, Wal-Mart, Fred Meyer, etc. These phones can provide an individual with hours upon hours of good clean-cut entertainment if you know how to use them. You can talk to different departments in the store, you can dial out of the store and you can even yell anything you want over the intercom. Next time you're in a store, find yourself a phone in a secluded isle and prepare to have lots of fun with it.
In some stores, such as Target, they encourage their guests to use the courtesy phones so you don't even have to hide yourself so well. But in just about any other store, store phones are never meant for customer use. Most employees that see someone using their phones will think nothing of it, but other employees like to pretend that they're important and will ask you what the hell you're doing. The correct response is a swift kick in the employees groin.
---
All-Store Paging
---
In most stores, the "all store page" button is marked clearly on the phone because store managers know that nobody in their right mind would pick up a store phone and say anything rude for the whole store to hear. Or would they? This is actually a useful thing to know because if you're with a friend and you get separated, you just pick up a store phone, hit "PAGE" and tell your friend to get his ass to the department that you're in.
But even more importantly, you can say anything you want to the entire store. From making up your own in-store specials to reading poetry, the audience of the entire store is at your mercy. And guess what happens when the employee or manager finally catches you? They tell you to cut it out. Especially if you're bigger than them, which I usually am. At the very worst, you'll be asked to leave the store. Which really isn't that terrible of a punishment, is it?
In the mid-90's, we even figured out how to get on the overhead paging system from our house at Fred Meyer. We simply called the store and asked them to transfer us to the extension for paging. Once we were on, they couldn't seem to kick us off and we remained on their intercom for hours at a time. Keep in mind, we were miles away from the store so it was impossible for them to know who was responsible. You can read the details of our remote hijacking by clicking here.
---
Answering Calls
---
If you hang out in a store long enough, you'll hear a voice overhead asking certain departments to pick up certain lines for customers. Such as "Housewares, you have a call on 230." Whenever you hear this, you should immediately race to the nearest phone and dial the extension that was announced. Usually it's not too hard to pick up a line before an employee gets to it. Once your connected, the customer on the other end thinks that you're an employee. Using your best employee voice, say something like, "This is Jake from Housewares, can I help you?" If you're unsure which department they're on hold for, pick up and say, "Which department are you holding for? Hardware? Well that's me! What can I do for you?" But that should be the extent of your friendliness. Use the conversations below to help guide you in the art of customer service…
Me: Who are you holding for?
XX: Electronics.
Me: Oh, that's me. What do you need?
XX: I just need to see if my film is ready. The last name is-
Me: Uh, listen, I'm really swamped back here right now so you're just going to have to wait. Can I put you on hold for about 20 minutes?
XX: Welllll, I could just call back I suppose.
Me: (acting pissed) Well, you don't have to be a fucking smartass about it. All I said was that I'm in the middle of playing Super Mario Kart and I don't have time to walk across the fucking counter and check on your film so just deal with it, you stupid bitch. Okay? (slam down the phone.)
An interesting phenomenon here is that as soon as you hang up, about two seconds later another line will light up… Weird. So you pick up the phone.
Me: (in a different voice) K-Mart, this is Big Bob.
XX: (very irritated) Yes, I just called Electronics at your store there and the boy who answered the phone was extrememly rude to me and I'd like to talk to the manager there.
Me: Well, I'm Bob the assistant manager. The real manager is asleep right now. Would you like me to go to his office and wake him up?
XX: Well, I think somebody needs to talk to the person in electronics. I asked if my film was there and he started screaming at me and using foul language.
Me: Ma'am, that's just the way our employees are. In order to cut down on stress in the workplace, we encourage them to relieve their frustrations on the customers. If you don't like it, you can take your fucking film somewhere else. (slam)
The trick is never to let them have the last word. You'd probably have a good laugh now by going to the Service Desk or operator's desk (aka fitting rooms) and listening to her call back and yell at the operator for a bit.
Me: Thanks for calling Wal-Mart, how can I help you?
XX: I need the toy department.
Me: Hold on… (different voice) …Toys.
XX: Do you guys carry the new Christmas Barbie?
Me: Which one? There's two of them. One of them she's got a Christmas wreath stuck up her butt and the other one she's holding a penis in one hand and a whip in the other hand. Anyway, yeah, we got 'em both but they're going quick. They're both $17.99 apiece.
XX: Uhhhh…
Me: Would you like me to hold one for you? I can take your name and hold it for 24 hours.
XX: (click)
Me: How rude…
Me: Hardware, how can I help you?
XX: I need the housewares department.
Me: Well, you got hardware. So how can I help you?
XX: Well, I doubt that you can help me because I asked for housewares.
Me: WELL, obviously the lady at the service desk is hard of hearing because you've been transferred to the hardware department so how can I help you?
XX: …Okay. I need to know if you have any of those blenders left that were advertised in Sunday's paper.
Me: How the hell should I know anything about blenders. You've got hardware here.
XX: Could you please transfer me to housewares?
Me: No, I can't. Maybe instead of a blender you'd like to buy a nice circular saw or some acrylic paint.
Me: Garden Center.
XX: Yes, do you have any of tho-
Me: No, we don't.
XX: You didn't let me fini-
Me: (click)
If you'd like to hear some actual calls of our customer service hijinks, visit our Fun at Wal-Mart page. You can listen to about a dozen sound clips of us being as rude as possible to customers.
---
Secret Departments
---
If you have the time, you can sit at a store's phone and manually scan for other "departments" that aren't listed on the phone or even known to most employees and managers. In the past, I've found the extensions to different phones in store rooms and offices around the store, I've been magically transferred to other offices in different states (speed dial?) and I've gotten lots of weird sounding noises and computer carriers and fax tones. I've also been thrown out of alot of stores.
Figure out what the extensions are for most of the departments in the store. Most stores have them written on the phone or next to the phone. If not, just call the operator and ask for the extensions. Using all the extensions you've gathered as sort of a template, start making up similar extensions and see what you can find. Then start dialing totally random numbers and see what you get. Continue to do this until you see an angry store manager standing behind you.
In some stores, the operator will notice that the phone you're using keeps going on and off. This will either make her suspicious or drive her crazy and in both cases, she'll send someone over to investigate. Really, though, the worst thing that could happen is that you'll get kicked out of the store. Oh darn. But even that's pretty unlikely. Just tell them you were trying to figure out how to get some help in that department, then ask if they have any Tickle Me Elmo dolls left.
---
Fred Meyer Store Phones
---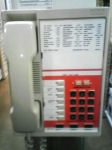 In the mid-90's, we figured out how to get on Fred Meyer's overhead paging system from our home phone. We simply called the store and asked them to transfer us to the extension for paging. Once we were on, they couldn't seem to kick us off and we remained on their intercom for hours at a time. Keep in mind, we were miles away from the store so it was impossible for them to know who was responsible. You can read the details of our remote hijacking by reading our Fred Meyer Hijacking page.
When we did this, the overhead paging extension was 1800. After awhile, Fred Meyer changed the extension in all of their stores to 1810. We've checked the extension in many stores in recent years and it seems to be 1810 everywhere we've tried now. Unfortunately it can't be done remotely anymore. You have to be in the store to get on the paging extension, as far as we know.
---
Wal-Mart Store Phones
---
Wal-Mart always seems to have a combinations of regular phones and fancy electronic phones throughout their stores. The electronic phones will usually have a paging button on them. But if you come across a regular phone with no speed dials or anything on it, you'll have to dial the paging extension manually. The extension is #96. Just dial that extension and listen to your voice echo throughout the store.
#980* picks up lines, * being the line number.
---
Target Store Phones
---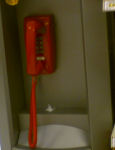 250 – Photo
241 – Food Ave.
229 – Jewelry
255, 256 – Electronics
---
Staples Store Phones
---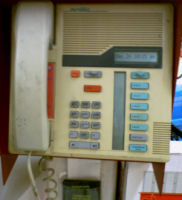 Matt from Canada says, "To page its (Feature button) 630, manager is 641, and that was about all the good ones the rest were to different phones which will vary. Usually start with 23x."
---
Home Depot Store Phones
---
Home Depot uses a Lucent phone system, plus mobile phones for the employees to carry around. The operator can be reached at extensions 452 and 453. The paging extension is 7#80. You can also dial directly into other Home Depots by dialing 1-700-888 and then the store number of the Home Depot you want to reach.
---
Office Max Store Phones
---
More information coming on this one….I SWEAR.
---
Office Depot Store Phones
---
More information coming on this one….
---
RETURN TO ARTICLES MENU
---