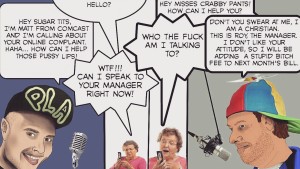 Today's sponsor is Lee W! Woohoo! In this episode I call up residents who are TOTALLY AGAINST the new sidewalk that's going up on their street. We also learn that Hollywood is full of thieving jerks.
If you already listened to Wednesday's live show with these calls, you should skip to about 30 minutes into the show to hear the newer ones.
[s2If current_user_can(access_s2member_level1)]
This video embed contains the original, unedited show. There's live video on it, but there's also lots of phones ringing and no answering. If this sounds awful, listen using the player at the bottom of this post, which edits out most of the boring stuff.
[/s2If]
Join the Elite Hobo Squad to support the PLA and get secret shows, or just support PLA with Patreon, add PLA on Facebook, add Snow Plow Show on Facebook, add Prank Call Nation on Facebook, add Prank Call Nation on on Twitter, add Prank Call Nation on Mixlr, add PLA on Twitter, add PLA on Tumblr, add PLA on YouTube, add PLA Shows on YouTube, add RBCP on Instagram, add RBCP on Twitter, add RBCP on YouTube, add RBCP on Vine, leave a voice message for the show at 814-422-5309.
Podcast: Play in new window | Download
Subscribe: Google Podcasts | Email | RSS